Tuesday, November 13th, 2012
I exhibited at five comic conventions over the course of two months this fall, from the smallest of the small to the biggest of the big. Here's how it all went down.
Small Press Expo (September 15-16 - Bethesda, MD)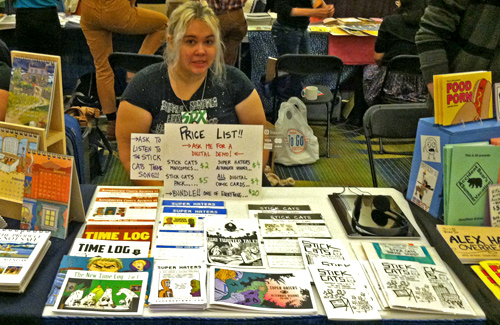 Fawn helped me out at my cozy half-table on the show floor. Thx Fawn!!
This was my first year at SPX. Two of my friends (Ross and Fawn) were awesome enough to swing by Pittsburgh on their way from Rochester, NY and take me to Bethesda with them.
I'd only heard good things about the show, but I still approached it with mental caution because the same convention can mean different things to different people. While I was amazed at the passion of both the exhibitors and attendees, I didn't click with the SPX culture. It's very bro-ish -- lots of in-jokes and references I didn't get, plus the camaraderie felt forced.
I was surprised to see so many SPX vendors selling crafts and other items that weren't small press comics. That seems like a general trend at the comic conventions I've attended over the past few years. Crafts have a huge presence at these shows.
I sold okay at this show but not great -- I didn't make back the $150 I plopped down for the table. But I did get to meet some fans of my podcasts and comics, which was by far the awesomest part of being an exhibitor.
Pittsburgh Zine Fair (September 22 - Pittsburgh, PA)

Don't be deceived -- I'm only holding five one-dollar bills.
I helped organize the second annual PGH Zine Fair along with Andy, Elizabeth, and Thom. Last year was a great start, but this year we wanted to build a bigger and better show for the zine and comics creators of Da Burgh.
And we did. Turnout was great at my alma mater, Carnegie Melon University. There were tons of students (from CMU and beyond), self-publishers, craft-makers, and casual browsers packed into the University Center gym.
The vibe was fantastic. It managed to feel both big and intimate at the same time. I had a ton of conversations with people walking the floor of the show, and I got to spend the day with my fantastic friends here in the Pittsburgh comics scene.
I did slightly less business in one day of the PGH Zine Fair than I did in two days at America's most prominant small press comics convention, SPX. So that was a plus.
New York Comic Con (October 11-14 - New York City, NY)

Two banners delivered a double-shot of AudioShocker branding at NYCC.
My first NYCC experience in 2011 was incredible. The show and its attendees had so much positive energy, and I had a ton of fun exhibiting.
This year was different. Like last year, I was a part of the Podcast Arena. Unlike last year, we were in an odd place on the show floor this time around, on the edge of a no man's land of creativity.
While the spectacle was still impressive, my lackluster table placement and the general disinterest of NYCC attendees meant that I did embarrassingly bad business as an exhibitor -- $35 over four days. I shit you not.
But the fun kicked in when the exhibition closed up shop each day. The great times I had hanging out every night more than made up for what I lacked in sales.
N.E. Geek Expo (November 3 - Jefferson, OH)

We split our table three ways, crafting a smorgasbord of self-published comics.
I exhibited at the Geek Expo for the second year in a row. I wasn't planning on setting up this year, but it's only a one-day event and Jefferson is a short drive from the Steel City.
Last year, the N.E. Geek Expo was surprisingly good for business. But this year? $19. Between the table fee, gas, and food, I spent more than I made.
Which is fine for a show like SPX, which also adds networking opportunities and lots more to the equation. But the hyper-local Geek Expo doesn't have much to offer other than another way to get my comics into the hands of new fans.
Still, I wasn't disappointed that I exhibited again. I still enjoyed myself and had a few good conversations. There are worse ways to spend a Saturday afternoon than talking about comics and sharing your work with new people.
Pittsburgh Comic & Collectibles Show (November 11 - West Mifflin, PA)

My self-published comics, precariously stacked next to each other.
Finally, there was the Pittsburgh Comic & Collectibles Show last weekend, which will go down in Nick Marino infamy as the least business I've ever done at a convention -- $0. Zip. Zlich. Nada.
Granted, the table was free. So it wasn't a losing proposition for me. And like I said about the Geek Expo, there are worse ways to kill time than talking about comics and sharing my work with new people.
This was the first time I've exhibited at this convention, which is also a hyper-local affair. It's held in one of Pittsburgh's many shopping malls... and, come to think of it, I've never done a mall show before. So I guess that's two firsts.
Aside from the fact that the converted department store smelled kinda gross, it was a really cool space with a groovy bunch of exhibitors.
In Conclusion...
I learned a lot from my experiences at these comicons -- about fans, about conventions, about myself. It's tough standing behind a table for hours on end, promoting characters and stories that people have never heard of before. And, in my case, often promoting formats that people have never heard of either.
Will I go back next year? Hmmmmmm... maybe to one or two of them. I'm currently moving to the west coast, and not all of these conventions make sense for me if I'm living in Los Angeles.
But regardless, I value all of the experiences I had this fall con season. And I'm looking forward to trying out new comic conventions in the future!
UPDATE: I forgot to add something! At SPX I was interviewed by a reporter from The Daily Dot about the persistence of print comics in the face of digital comics becoming more and more prevalent.