Catch me at NYCC 2012
I'm back again this year repping the AudioShocker at New York Comic Con in the Podcast Arena. Here's a video I made about it (please enjoy the boppin' jazz soundtrack courtesy of the YouTube Video Editor):
I had a great time last year and I'm psyched to be back again, this time sharing a table with the Comic Timing Podcast at Booth 3354 at the back left hand corner of the Show Floor of NYCC:
I had a ton of requests for freebies in 2011, so I've rolled into town with a big ol' stack of AudioShocker Podcast Samplers and Stick Cats: Act O minicomics!! Here's a peek at 'em: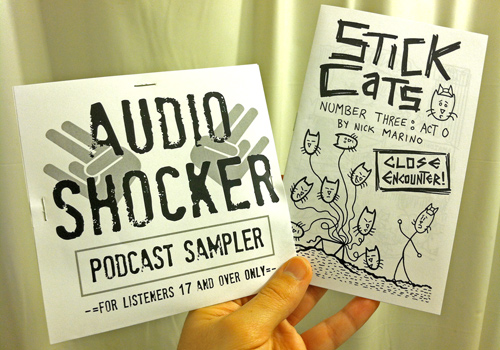 Supplies are kinda limited and I dunno when I'm gonna run out, so you betta get 'em while they're hot!!
Along with those, I'll have bunches of Super Haters, Stick Cats, and Time Log comics (including digital comic cards!). I'll also have some awesome offerings from my buddy, Jeremy Baum, including a new comics anthology that he just edited (featuring yours truly) called Arcadia.
So come hang out and talk comics with me!! Can't wait to see ya there 😀