Wednesday, September 12th, 2012
Marmalade and Steve are on a quest to take down the Octo-Kitty, a dangerous hydra-like creature with eight adorable kitten heads. Stick Cats comics and songs chronicle their wild lo-fi adventure, taking you from the shores of Bengal Beach to the desolate Litterbox Desert and beyond.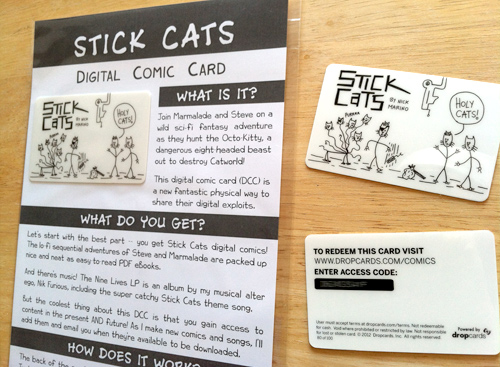 This digital comic card (DCC) is the most awesomest and super-bestest way to own the digital saga of the Stick Cats! It's a multimedia roundhouse to the face, featuring sequential stories and stellar sonics that'll knock you on your booty.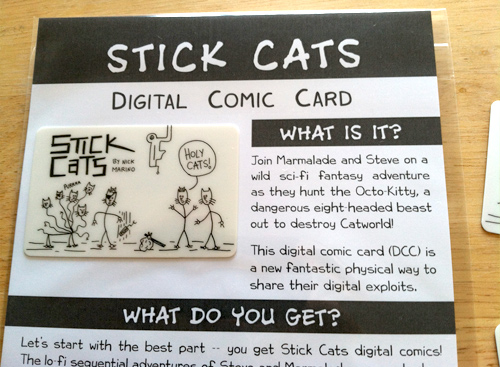 Here's what you get on this DCC (last updated 02.09.13):
- Stick Cats #1 - Act I eBook (22 pages, PDF)
- Stick Cats #2 - Act III eBook (25 pages, PDF)
- Stick Cats #3 - Act 0 eBook (6 pages, PDF)
- Exclusive DCC audio commentary (MP3)
- The Nine Lives LP by Nik Furious (9 original songs, MP3)
And here's what'll be added to this DCC soon:
- Stick Cats #4 - Act II eBook (TBD)
Currently, this DCC can be redeemed at dropcards.com/comics by entering the unique download code found on the back of the card. If you're interested in owning your own Stick Cats DCC, email me for details.