Catch me at the 2012 Pittsburgh Zine Fair
Last year, I helped organize the first Pittsburgh Zine Fair. It was a fun community event with fantastic attendance and a ton of enthusiastic exhibitors.
I liked that process enough to help organize the show again this year. Together with Andy Scott, Thom DeLair, and Elizabeth Brophy, I've been working to build a bigger and better zine and indie comics event for Pittsburgh artists.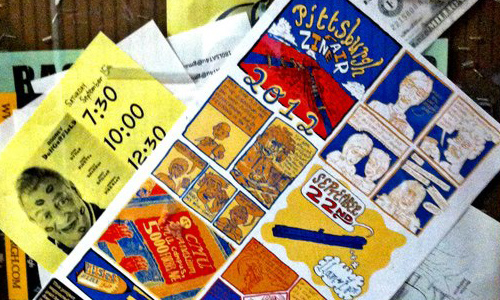 This year's Pittsburgh Zine Fair takes place tomorrow -- Saturday, September 22 -- from 11am-7pm in the University Center's Wiegand Gymnasium at Carnegie Mellon University, my alma mater. I've really enjoyed organizing this year's show, including my nostalgic session postering CMU's campus.
In fact, I got so caught up in organizing the event that I forgot to register to be a vendor. Whoops!! Luckily, as an organizer, I've learned that there's always a last minute cancellation. Someone bowed out earlier this week and now I'll be sharing my wares after all.
What will I have on my table? Everything that I brought to the 2012 Small Press Expo last weekend and more, including some of my weirder and more obscure offerings. Frankly, I'm kinda winging it this time around so I don't have a full list for you. Just come hit up my table and see what I've got!!
Anyway, I've been a part of promoting the 2012 PGH Zine Fair through various media, like this promo video (featuring me half-naked... I'm sitting on the toilet but you can't see the toilet so it just looks like a whole lotta butt cheek):
I also recorded this shaky solo video showing vendors how to get to the Wiegand Gym, which is a bit tricky to find if you don't already know CMU's layout:
And, of course, I podcasted about the event. Andy Scott and I were joined by my good friend and vendor at this year's show, Virginia Shields, to discuss what people can expect from the 2012 PGH Zine Fair. Give it a listen!!
One last thing -- we're currently running a Pittsburgh Zine Fair Kickstarter campaign to help fund some of the awesome programming we have planned for this year and to ensure that the show continues into the future. Please donate!!! Every donation over $5 gets you cool schwag.
That's it. There's my 2012 Pittsburgh Zine Fair pre-hype. If that didn't convince you, then I don't know what will. See you at the show!!