Comics
I write 'em. I draw 'em. I podcast about 'em. Here are the comics I've created: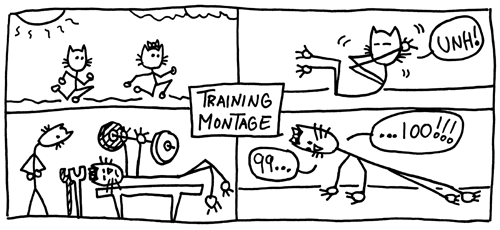 Stick Cats is my all-ages lo-fi stick figure webcomic with no set schedule and no creative limits. Everything is done by hand... drawn and lettered in my sketchbook before it's scanned, cleaned up, and shared online (and printed as minicomics!).
Currently, Acts I, III, and 0 are complete and Act II is in progress. Visit the Stick Cats page to check out the archives, listen to the theme song, and learn more about Marmalade and Steve.
You can download Stick Cats PDFs for free from my eBooks page.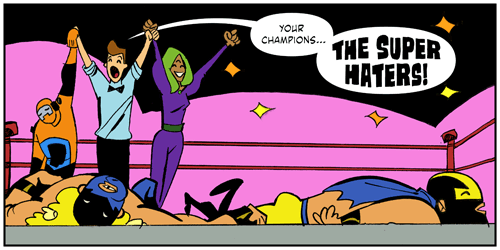 Super Haters is a NSFW superhero satire starring Destruct-O-Tron and Mind's Eye, two slackers who'd rather stand around and argue than fight crime.
I launched Super Haters on June 25th, 2009 as a weekly cut-and-paste webcomic on AudioShocker.com. A year and a half later it moved to SuperHaters.com and became a daily webcomic with the help of my co-writer, Justique Woolridge. Super Haters ran (mostly!) daily from December 2010 to December 2012.
During that time, I began collaborating with a diverse group of talented artists. These fantastic illustrators helped me re-envision the Haters in all sorts of bizarre situations. When the daily webcomic ended in 2012, Super Haters continued as a series of short stories featuring guest artists.
The comic will wrap up for good on its 5th anniversary with Super Haters #500.
You can download Super Haters PDFs for free from my eBooks page.
After a decade of development and rewites, Time Log debuted as a one-shot comic book in April 2010. The creative team clicked and we decided to continue our time travel buddy comedy as a finite webcomic. Throughout the production process, I've held roles including co-writer, letterer, inker, colorist, and editor.
The story is appropriate for teens and adults. It follows a group of friends who stumble into an epic loop of mistakes spanning from 1846 to 2069. You can read the Time Log webcomic at AudioShocker.com. Currently, the story is being remastered and prepared for the consideration of publishers.
Other Comics
- Like variety? Since 2009, my comics have been included in a bunch of interesting and unusual anthologies.
- Stashed around the internet in various places, you can find my short collaborations with some fantastic comic book artists. (And, occasionally, my artistic collaborations with other comic book writers!)
- Plus, I do the occasional solo short story when I'm in the mood. Check out Passage, I Hate Comics Forever, Run Backwards, and Heat Seeker.
- I've taken my stories across the USA (and Canada!) to different comic book conventions, small press fairs, expos, and other events. You can learn more about the shows where I've exhibited my comics.
- I've developed a product called the digital comic card. Utilizing Dropcards download technology, DCCs are a physical way to share digital comics. Each card contains a unique download code that unlocks PDF comics, MP3 audio commentary, and more. Customers can redeem the codes at dropcards.com/comics. You can see examples of my digital comic cards here.
- My first webcomic, Zombie Palin, follows an alternate timeline where an undead Sarah Palin must lead the USA after the death of President McCain.
- After Zombie Palin, I experimented with comic book reviews in the form of comic strips. I called them 3 Panel Reviews.
- Finally, you can read my earliest comics, abandoned projects, and rejected pitches as I unearth them in From the Vaults.