Wednesday, August 31st, 2011
On Thursday, September 1st from 5-10 PM I'll be at AIR peddling my minicomics and zines at the mega-awesome super-bodacious PITTSBURGH ZINE FAIR!!!
Here are my new releases created especially for this year's debut show:
Tales for a New Gen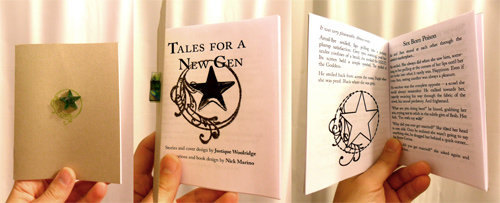 I'm thrilled to present this zine of three short sci-fi tales by Justique Woolridge. I did a few illustrations and the book design for TFANG, but make no mistake -- Justique is the star here, writing the kickass tales and designing the gorgeous cover.
NoPants Zine Anthology
NoPants was my early 00s satire of corporate magazine culture, full of nonsense and cheeky ignorance. I've decided to collect the three original NoPants issues and create a new one just for the Pittsburgh Zine Fair. But instead of printing them individually, I'm collected them into a 48-page anthology of insanity.
Along with these two new releases, I'll also have issues of Time Log, some Super Haters ashcans, my sci-fi minicomic Passage, Poetree (which was randomly featured on the front page of Pop City today (see below for a screen cap), and more.
Still not convinced? Check out this video ad for the Zine Fair:
You might recognize the music -- it's my song Essential from Brilliant Shower. I'll be playing my Nik Furious music at the Fair from 8-9:30 PM, tearing it up with some of my mixtape mixes, original instrumentals, and favorites from other musicians.
So that's it. That's all I've got. That's my best sales pitch. Hope to see you there!!!