Check out my art at Future Tenant's 10th Birthday Party!
Future Tenant, a Pittsburgh art organization, is throwing themselves a kickass 10th birthday party this Friday, March 31st from 7 PM till midnight at Bakery Square.
I've donated an original 10x10" work to be auctioned off at the event. Made with puffy paint and nail polish on black cardboard, it's called "Devitalization":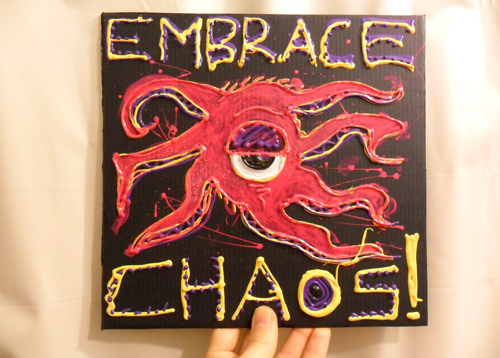 Last year, I donated a (very NSFW) piece called "Hollywood" to the 2011 fundraiser, Sugar Factory. And I was on the fence about attending the actual event... but since I live right down the street from Bakery Square, I decided to give it a shot. And I'm glad I did because the event was F@&%ING AWESOME!!!
Basically, what I'm getting at is that the price tag ($25 presale, $30 at the door) is totally worth it. There's tons of free food, drinks (an open bar!), and entertainment. Plus, ya know, all of the art. (It's an auction, after all, so you can try to win your favorite piece!!!)
For more info, check out the Facebook page for the event. And speaking of Facebook, you can also check out more pics of "Devitalization" if you're curious.