Flying Sabertooth Unicorn with a Missile Launcher
Last weekend on the Super Haters Twitter account, I made a very special offer -- my 300th follower would receive a personalized unicorn sketch. That 300th follower ended up being Charlie Roberts (@ChuckieRoberts).
When I asked Charlie what he wanted to see on it, he said:
It needs wings. And robotic legs. And missile launchers. And sabertooth fangs.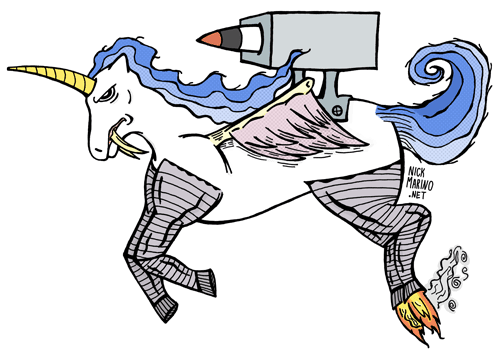 And when I asked him what "rating" the unicorn should have, he said:
NC-17, R18 - the highest in every country.
So I also made him this extremely NSFW variant version of the unicorn (since it's rather adult, you have to click the link to see it).
Thx Charlie!!! And make sure you're following @super_haters because I'll be doing more fun stuff like this in the future.
More:
- Hi-res regular version on deviantART
- Hi-res NSFW version on deviantART
- NSFW rainbow version on Tumblr
- Regular rainbow version on Flickr