Darkseid sketch from Free Comic Book Day
I was fortunate enough to be invited to hang at Phantom of the Attic Comics yesterday for Free Comic Book Day. I had a great time meeting comic book readers and selling my comics to countless unfortunate victims. (Not to mention giving away over 60 Stick Cats maxi-comics and 45 CDs of the theme song (which I'll post tomorrow)).
One especially unlucky comic book fan won a raffle of my work, including prints from A Deadpool A Day and Green Thursdays... as well as an IOU for a free superhero stick figure sketch.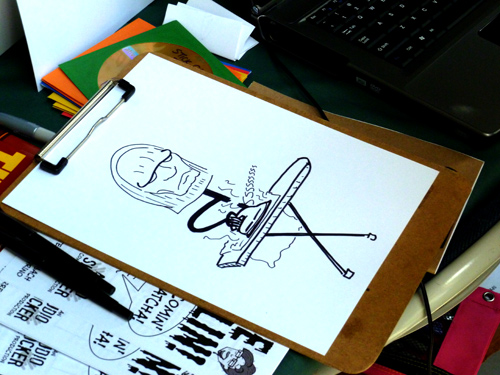 My apologies to the unsuspecting guy who took home this sketch. Hope you don't hate it! And thx to Seth Fronzoli for the photos.