Thursday, April 5th, 2012
Today and tomorrow -- April 5-6 -- I'll be exhibiting at the debut installment of The Toonseum MiniCon! It's going down at 113 N Pacific Ave, Pittsburgh, PA 15224 (just off of Penn Ave in Garfield/Friendship) from 6-9 PM on both days.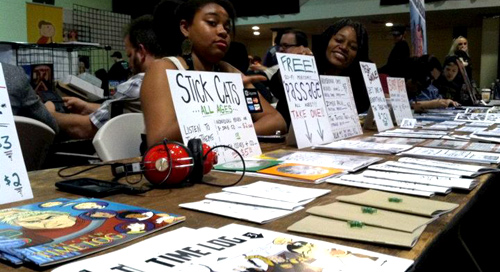 I'll have the same kickass spread that I brought to STAPLE! and the Buffalo Small Press Book Fair just last month. Check out this video I made for STAPLE! to see all of the comics I'm bringing with me this weekend.
The Toonseum MiniCon is a part of the larger 2012 Geek Art/Green Innovators Festival, a Pittsburgh initiative that blends art, technology, ecology, and pop culture.
On Friday, the MiniCon will crossover with Unblurred, the neighborhood's monthly gallery crawl. That means there'll be plenty of free drinks and art everywhere.
I hope to see you there! Swing by to snag of my books, talk about comics creation, or just say hi 🙂
And for more info about the event, listen to this Sequential Underground podcast I recorded last week with the show's manager, Juan José Fernández.