pitches
Wednesday, October 18th, 2017
Friday, July 5th, 2013
Before I go into unnecessary detail about the creation of The Demon From My Butt, I'd like to share the final product with you. Just so you know, it was created to be animated and that's why the dialogue is underneath the panels as opposed to being inside word balloons.
The Demon From My Butt by Nick Marino (click here for more reading options if you don't see the embedded reader or your device can't run Flash)
Also, you can download The Demon From My Butt as a PDF.
---
And now... THE BACKSTORY!
November 2012. It was the day before Thanksgiving when I was contacted by a development rep from Frederator Studios. They're the company behind Adventure Time, Fairly Odd Parents, and more.

I was invited to pitch ideas for Too Cool! Cartoons, part of Frederator's Cartoon Hangover partnership with YouTube. I thought I was super special.
"This is the email I've been waiting for," I said, "the one I knew I'd always receive!!! They're gonna pluck me from obscurity and turn me into a cartoon superstar!"
The truth is that Cartoon Hangover has an open pitching policy and I just didn't do enough digging around the web to find that out until later.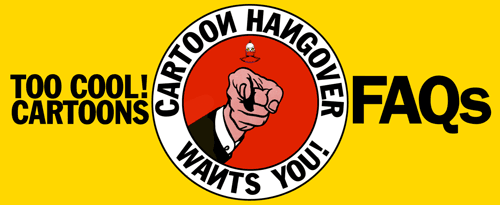 Blinded by ego and excitement, I threw myself into the pitching process. While I developed two soon-to-be-rejected ideas with a couple of collaborators, there was a third pitch that I developed alone -- The Demon From My Butt.
TDFMB tells the tale of a stoner named Eugene Cho. He gets the munchies one night and eats a crazy mix of food. This sends him running to the bathroom to take a massive crap... wherein a demon named Belaxis pops out of his ass.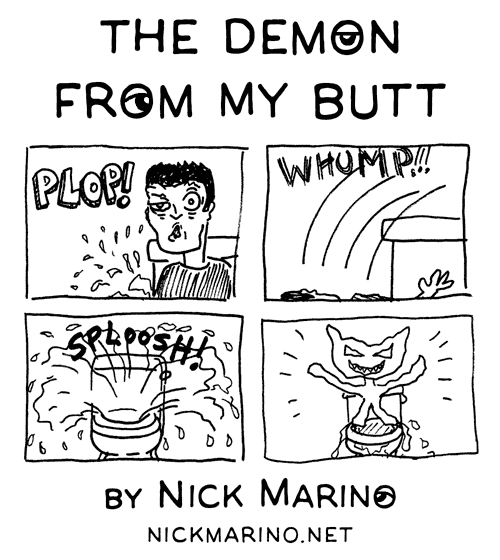 It's inspired by my personal experience with IBS. I've struggled with digestion issues my entire life. Sometimes taking a poop feels like I'm giving birth, or -- if it's especially bad -- like I'm giving birth to a demon.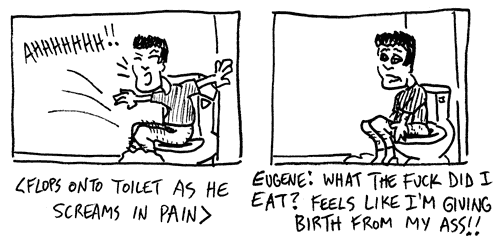 I was surprised to see that the pitches they sent me as examples (which eventually became Adventure Time by Pendleton Ward and Superf*ckers by James Kochalka) were extremely raw. My rep called them beatboard pitches, a term I'd never heard before because I don't have an animation background.
I decided that my TDFMB pitch should be equally as raw, if not rawer! Ya know, totally handmade and inconsistent. That's why when I sent them my final pitch in January 2013, it looked like this (I even left in the spine of my sketchbook to give it extra rugged appeal):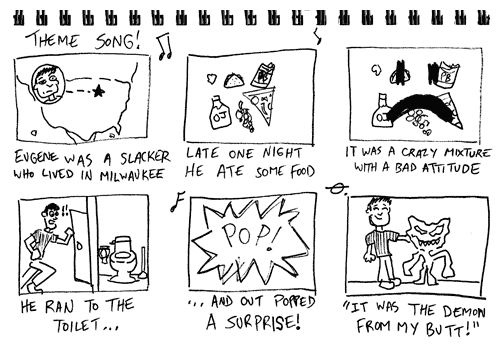 I also recorded a Fraiser-ish vocal demo for a TDFMB theme song.
Suffice to say that Frederator didn't like it. I got an email a few days later officially rejecting The Demon From My Butt:
While this is a really funny and silly idea, I'm not sure it's a good fit for Frederator. We're looking for character driven shorts with broad comedy appeal, and while Demon from My Butt has a lot of great jokes narratively it isn't the kind of comedy short we're looking for. Without a clear goal or a significant plot we're really left with just a series of more and more outrageous scenarios and ultimately this felt more like a single gag - the whacky montage between two unlikely pals - than a sustained short.
I can't argue with that! At its heart, TDFMB is just a wacky (hehe whacky) montage. What can I say? I love a good montage! Still, it woulda been sweet to see this become an animated short.
At some point in the future, I hope to share my other Cartoon Hangover beatboards with you. But those projects may yet have legs to stand on in the future. For now, this is the only one I can safely exhume... FROM THE VAULTS!!!
UPDATE: I've posted the original beatboards on my Tumblr. They're pretty much the same exact thing as the digital comic, only formatted differently.
UPDATE 2: I just learned that there's a new movie coming out soon and it's about a guy with stomach problems who discovers that he's got a little demon living in his intestines! It's called Bad Milo and it stars Ken Marino. WEIRD!!!