Listen to Love & Monsters... then buy it!
My final instrumental songs made under the name Nik Furious are now available for your hungry ears:
I contributed six tracks to this Love & Monsters album, featuring four other fabulous cuts from Jesse Spillane and Sam Star.
If you backed our successful Kickstarter campaign late last year, then you should already have a download code waiting for you in your inbox. However, if you didn't pre-order our project... then you can buy it now!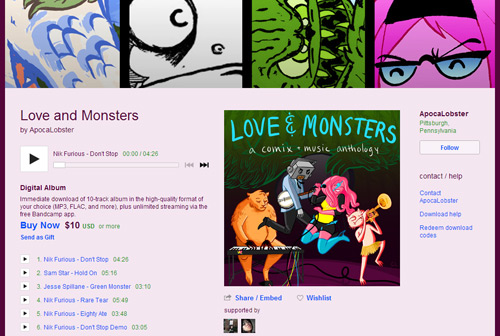 For $10 you get our 10-track album AND a 90-page PDF of comics by Cynthia Lee, Shawn Atkins, Jared Catherine, and Virginia Shields. That's a pretty sweet deal!
I hope you enjoy these jams. Although Nik Furious may finally be takin' the ol' dusty trail off into the horizon, I'll be back soon with a new music name and some fresh instrumental cuts.