Catch me at NYCC 2011!
This weekend, I'm at New York Comic Con at the Javits Center (34th and 11th) in Manhattan at table D15 in Artist Alley.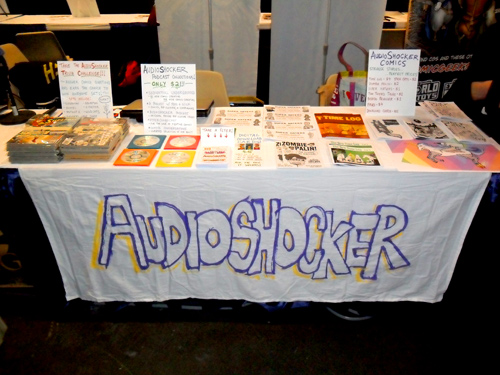 I'm repping the AudioShocker in the Podcast Arena. I'm selling curated collections of our best podcasts, along with a lot of the comics I had at PIX last weekend.
I'm also running an AudioShocker Trivia Challenge, quizzing people on their comic book and superhero knowledge both new and old. The challenge was a hit yesterday, and I'm almost out of my first batch of prizes. When I officially run out of mainstream comic book sets to give away, don't worry -- you can still play for copies of my self-published comics! (Even better prizes, if you ask me.)
Anyway, if you're at NYCC, stop by and say hi. My table is in the waaaaay back of Artist Alley (right underneath the Podcast Arena sign hanging from the ceiling). See you there!!!