From the Vaults: Evil Dick
Before there was Zombie Palin, there was Evil Dick: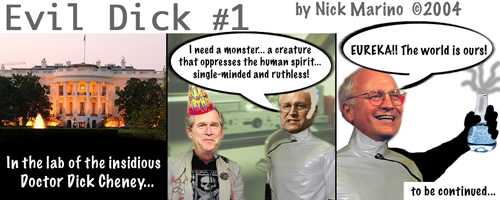 In fact, before there was Evil Dick, there was Evil Andy. But, see, I went to Carnegie Mellon University -- and while I did manage to publish some heinous and offensive comic strips in the school newspaper -- I just couldn't get The Tartan to approve a comic strip starring a bigoted and misogynistic zombie Andrew Carnegie (same goes for another satire strip I came up with about CMU's Dean, Jared Cohon).
But after my graduation, the idea for Evil Andy came back to me. I decided to switch out Carnegie for Richard Nixon and voila! Evil Dick was born!!!
The plot followed Dick Cheney as he resurrected Nixon to be his undead mastermind, leading readers to believe Cheney was "Evil Dick." But then BLAM! I'd hit 'em with the ol' switcharoo in #4 as Nixon kills Cheney AND Bush, and takes over as the President of the United States!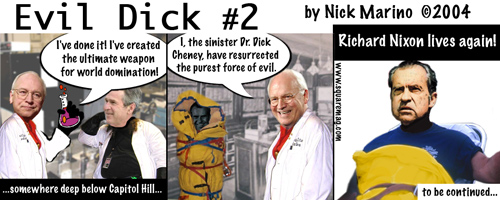 But alas, after two installments, I abandoned the strip. I wanted to run it on SquareMag.com, a site for which I'd written a couple of prose pieces. But there was no interest from them, and in turn, I began to lose interest myself.
Years later, I adapted the core concept of Evil Andy/Evil Dick into the idea for Zombie Palin, a comic strip by myself and my co-writer, Pete. It follows a similar premise, only Palin isn't resurrected -- she's bitten by zombies and becomes the first undead President.
The only remnants of Evil Dick are these two photo collage comic strips and my massive set of 30+ scripts, making Evil Dick another of my secret past projects... FROM THE VAULTS!!!