put Holy F*ck #1 into your pull list in style with these snazzy collectible forms
UPDATE: Read a wickedly wild five-page preview of Holy F*ck #1 here:


---
Holy F*ck #1 is in Diamond's new Previews catalog! That means my first insane issue with Daniel Arruda Massa is ready for your preorders.
To help expedite the process, I've made not one BUT TWO sexy forms for you to print out and bring into your local comic shop. (Okay, you only need to bring in one... but you get to choose which one!)
Holy F*ck #1 order form: "poking Jesus" variant - DOWNLOAD PRINT VERSION

---
Holy F*ck #1 order form: "biker Jesus" variant - DOWNLOAD PRINT VERSION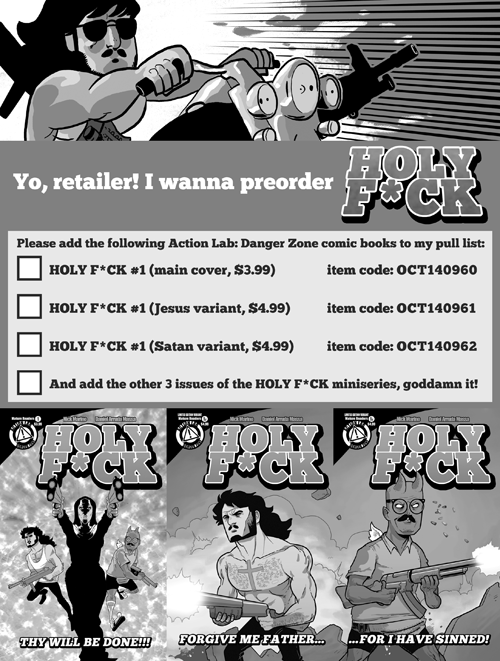 Why two? I dunno. Daniel and I couldn't pick a favorite design and we were all like, "Ehhhhhh fuck it just use both of them and let people decide." BOOOOOOOMM! That's how you got collectible variant order forms.
Speaking of variants, we have three covers for Holy F*ck #1. First there's Daniel's main cover, one of the few things from our original Holy F*ck pitch that's gone unchanged.
Then we've got a gut-toting Jesus variant and a shotgun Satan variant, both by Daniel. All four of our issues will have these Jesus and Satan variants. And I'm telling you... they're gonna knock your socks off your feet and straight into the upper atmosphere!
(There's one more variant for Holy F*ck #1 out there, but you can't get it from your comic shop. In fact, I'm not even ready to tell you how you can get it yet. All I'm gonna do is leave this link here and let you guess.)
Anyway, thanks to all of you who are preordering Holy F*ck. Letting your retailer know that you want this book makes a huge difference in our overall orders and it ensures that you'll have your own special copy of it.