All of the Justice League of America #1 state flag variant covers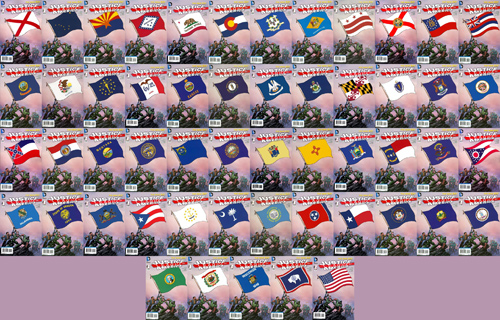 click to zoom (full size = 2560 x 1640 pixels)
I'm not exactly sure what possessed me to do this. I'm not a Justice League of America fan. I haven't read the issue. I'm not crazy about the cover. I'm not trying to collect the comics.
But I was listening to this podcast and it just struck me how bizarre it was that DC Comics created 52 variant covers for the 2013 JLA relaunch by copying and pasting the 50 state flags (plus the DC and PR flags) into the same drawing.
The same drawing. 53 times. And they sold over 300,000 copies to comic book retailers. It's amazing and confusing.
I wanted to see all of the covers in one place, just to witness the opulence firsthand. But I couldn't find all of them together. So I decided to do it myself, thanks to some help from TFAW (who had most of -- but not all -- of the images).