From the Vaults: Harry Potter in Badass Bloodbath
Here's a doodle of mine that was nearly lost to time: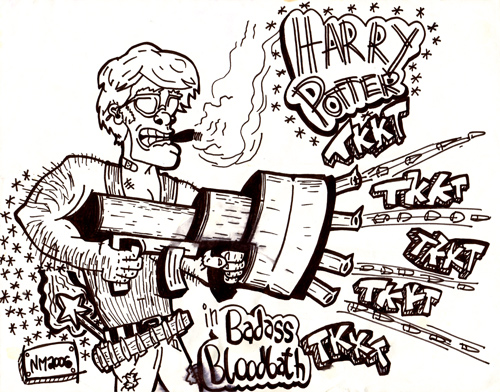 I drew this back in 2006, when I first started dating Justique. She dug the Harry Potter books, and I wanted to sketch something that'd be familiar to her.
So I fused my love of antiquated, macho, gun-toting action heroes with her love of magical, modern, sensitive teen heroes... and voila! Arnold meets Radcliffe to birth a "Badass Bloodbath."
Justique unearthed this gem the other day when she was flipping through one of her old journals. And, as you can see, the ink from my Paper Mate Flair pen has bled a little bit, giving the drawing a nice extra sloppy effect in places.
Share this on: Facebook -- Tumblr -- deviantART -- Flickr -- Google+