Interview at Notes From The Playground
Wayne Wise -- writer, artist, and Pittsburgh comics ambassador -- is running a series of small press interviews on his blog, Notes From The Playground...
...and I'm one of them!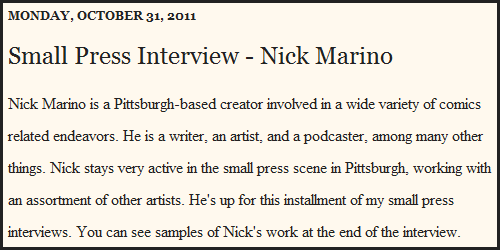 I answered Wayne's questions about my comics background, process, influences, and tons more. Check it out: Small Press Interview - Nick Marino
Also make sure to check out Wayne's three (count 'em... three!) new digital novels -- Scratch, Bedivere Book One: The King's Right Hand, and This Creature Fair.