about
•
archive
•
old
•
tweets
•
tumbls
•
timeline
•
tunes
•
tubes
The Lockeroom #2
wherein my teen zine gets hyperlocal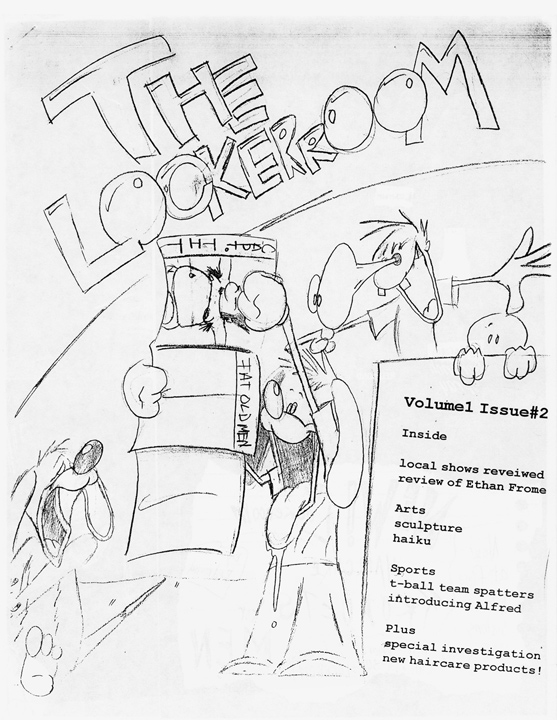 read The Lockeroom #2 as a PDF (right click to save)
Apparently Josiah Simmons and I stayed up all night to put together the second issue of The Lockeroom. At least, that's what the back cover says. But I'd be lying if I said I remembered doing that!!
Our cover is by Ryan Conaughty. I really like the porno mag those dogs are reading -- "Capt. Tit" -- it sounds like a pretty classy publication if ya ask me. Just like The Lockeroom.
More so than the first, this issue relies upon the juxtaposition of bizarre images. The collage in The Lockeroom #2 creates associations that are just open ended enough to be equal parts funny and confusing.
My longtime friend and former Brooklyn roommate Alyssa Ference writes a review of Ethan Frome, a book which she never read. And I continued my Short Story feature from the previous issue, this time going on a divergent rant instead of telling a story.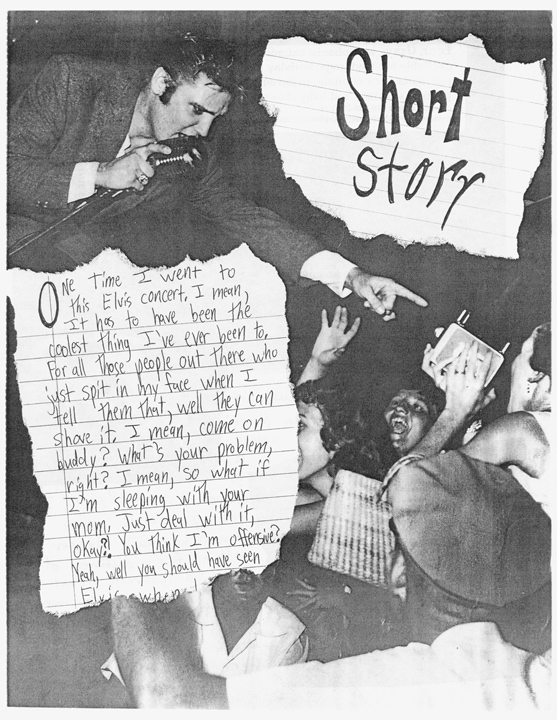 Something else unique about this issue is the appearance of actual articles and reviews. Josiah writes an extensive review of a local punk rock show. And somebody named Josh White (whom I have zero memory of) reviews another gig featuring some local western New York bands.
Whereas the first issue of The Lockeroom felt much more like a broad magazine satire, this issue feels like it's leaning more towards hyperlocal reviews along with some newspaper satire. Each review or news-ish piece is formatted in a paragraph structure and gets a clear byline. And most of the topics tackled in this issue are directly related to the specific experience of being a punk music loving high school student in the town of Fairport, NY.
Overall, there seems to be more immediacy and directness to the content here. And that all makes a lot of sense when I think about it. Josiah was writing for the Fairport High School newspaper, The Lampion, and I know the experience could get pretty frustrating for him. In fact, later issues of The Lockeroom feature content directly from The Lampion.
But first, in this issue, Matt Rosini addresses the maddening school paper head on in his incredible comic strip, The Hulk vs. The Lampion.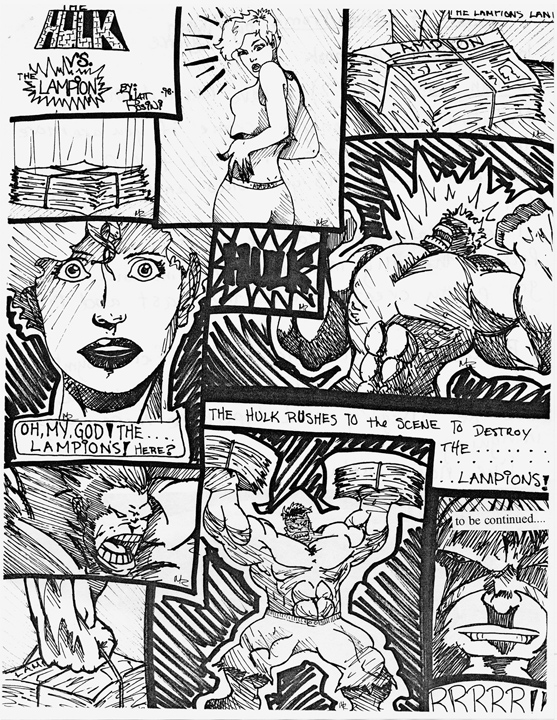 It's amazing how many panels he's able to clearly fit on that page. It's pretty damn action-packed and funny for being such a short comic... and it's also pretty impressive considering that Matt was only 16 or 17 at the time.
All in all, I think The Lockeroom #2 is a solid zine that acts as a cultural artifact, documenting a specific place at a specific point in time as experienced by a specific group of friends. Basically, it's a fun time capsule.