Stick Cats now available as PDF eBooks
I'm psyched to say that you can purchase the first two adventures of Marmalade and Steve as cat-tastic eBooks from my online store.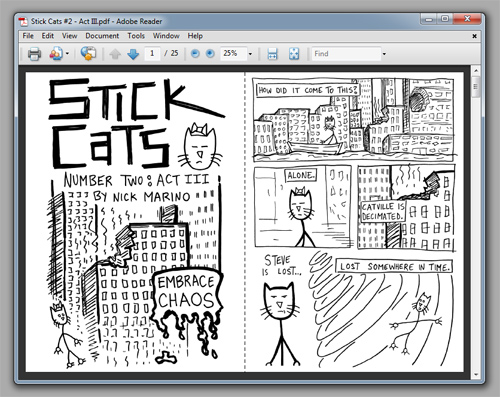 The service I'm using to sell these eBooks (at least this first time around) is UPLOADnSELL, which only keeps the files up for sale for three months. Here are the purchase links (for the first 90s days, that is!):
Stick Cats #1 - Act I
Buy Now - $1.49 USD


Meet Marmalade and Steve, two tough cats with one goal: to take down the Octo-Kitty, a dangerous 8-headed beast! This awesome 21-page story is full of weird plot twists and imaginative adventure. read a preview
---
Stick Cats #2 - Act III
Buy Now - $1.49 USD


Catworld has been decimated in the Octo-Kitty's quest for supremacy! With Steve missing, Marmalade fights to salvage what's left. This 24-page tale was produced during 24-Hour Comics Day 2011. read a preview
---
Admittedly, you can already read the webcomics here on my blog or on Facebook. But by purchasing these eBooks, you can:
1. say thanks
2. toss me a wee bit of $$$
3. own digital copies of these stories that you can read on any computer or device that handles PDFs (which nowadays means just about every computer and device)
Next week I'll be announcing another Stick Cats product, one that includes these eBooks among many other excellent Stick Cats goodies. See ya then!